One of our favourite dates in the Liverpool musical Calendar FestEVOL returns in 2016 in a new home courtesy of Camp And Furnace. (See our 2015 pictures HERE)
And following the incredible range of artists announced for this years FestEVOL, it looks like the man behind it, promoter Revo is taking things to the next level. Headlining is a Hollywood star whose music and live performances are as edgy and explosive as the acting roles she chooses in the form of Juliette Lewis. She's getting back together with her band The Licks to tour and release a new album in 2016 and explained that after working with Brad Shultz of Cage the Elephant "I knew I eventually had to put together a killer band. And I thought … Why don't I get the best band I ever had back together again – The Licks."
We asked Revo, what were the reasons for revamping FestEVOL  …
" I felt like with our former home the Kazimier closing we needed a new approach if we were going to take FestEvol up a level. After doing Caribou at the Camp and Furnace it was clear to me what could be achieved in the venue and that it had a natural festival feel. It felt right, as did the placement of the event at the foot of the festival calendar rather than early August. When we started out there wasn't anything on until the final weekend of August and last year there was almost too much going on so with the venue being much bigger it was best to slingshot to May. And for me personally it's a better time to work as there's more talent out on the roads."
Also, on the bill is Steve Mason, of the Beta Band, whose latest LP Meet The Humans, is released on February 26 via Domino Records, hotly tipped Blossoms return to Liverpool and VPME favourites such as Black Honey and Ladytron's Marnie are also included. And as ever there's some of the most exciting new talent from the local area such as Hooton Tennis Club, The Vryll Society, The Probes, RongoRongo, Scarlet, Pink Kink, Bathymetry and Feral Love to name but eight.
Was it hard work pulling such a stellar lineup together and how long had Revo been planning this one?
"I've been toying with the idea for a while but once I set it into motion it took about a month to get everything together. I confirmed Juliette to play, and it's pretty exclusive as she's only playing two UK shows and then I was able to build the rest of the lineup. Getting Steve Mason back on the eve of his third album release was a coup as the record is fantastic and will be much loved and then Blossoms confirming and then selling out their O2 show in March with us in advance was beautiful. I thought we'd have to hold off announcing them but they've broken through the stratosphere these past few weeks and are going to be massive. I missed a couple of things I would've liked to have booked but I'm very happy with the lineup, it's really strong, fresh and I know every artist can live up to it on stage, which is always the most important thing to me when booking.. "
We did wonder how on earth so many bands could be crammed into one day , but never fear ….
"The plan is to have 4 stages and there's a weave to create a natural ebb & flow throughout the venue and FestEvol is a Leo Sayer (all dayer) and we're starting reasonably early and running it late. It's a marathon event and you'll need your very best rock-n-roll stamina."
Finally, we asked Revo if this special early FestEvol would  become a regular fixture and will there still be the traditional August FestEvol.
"We'll wait and see, convene about a week post event and assess the pro's and con's. I'm still planning on an August event and there's something booked in the calendar but it's a little way off for us yet and we're still forming ideas but it's nice to have more exciting events in the pipeline to run in tandem with the program of quality Evol shows coming up…"
You can get tickets for the event via THIS LINK
Full line up
Juliette & The Licks
Steve Mason
Blossoms
Hooton Tennis Club
Marnie
The Vryll Society
Black Honey
By The Sea
Hidden Charms
Poltergeist
Dead Buttons
Baba Naga
Cupids
Girl Friend
Man Made
Estrons
The Orielles
The Amazons
Pumarosa
Cavalry
Pure Joy
Pink Kink
The Shimmer Band
Strange Collective
Sankofa
Tom Low
Bathymetry
Feral Love
Psycho Comedy
Minnetonka
The Probes
RongoRongo
LUNGS
Alibis
Ohmns
Scarlet
Indigo Moon
Year Of The Fiery Horse
Little Triggers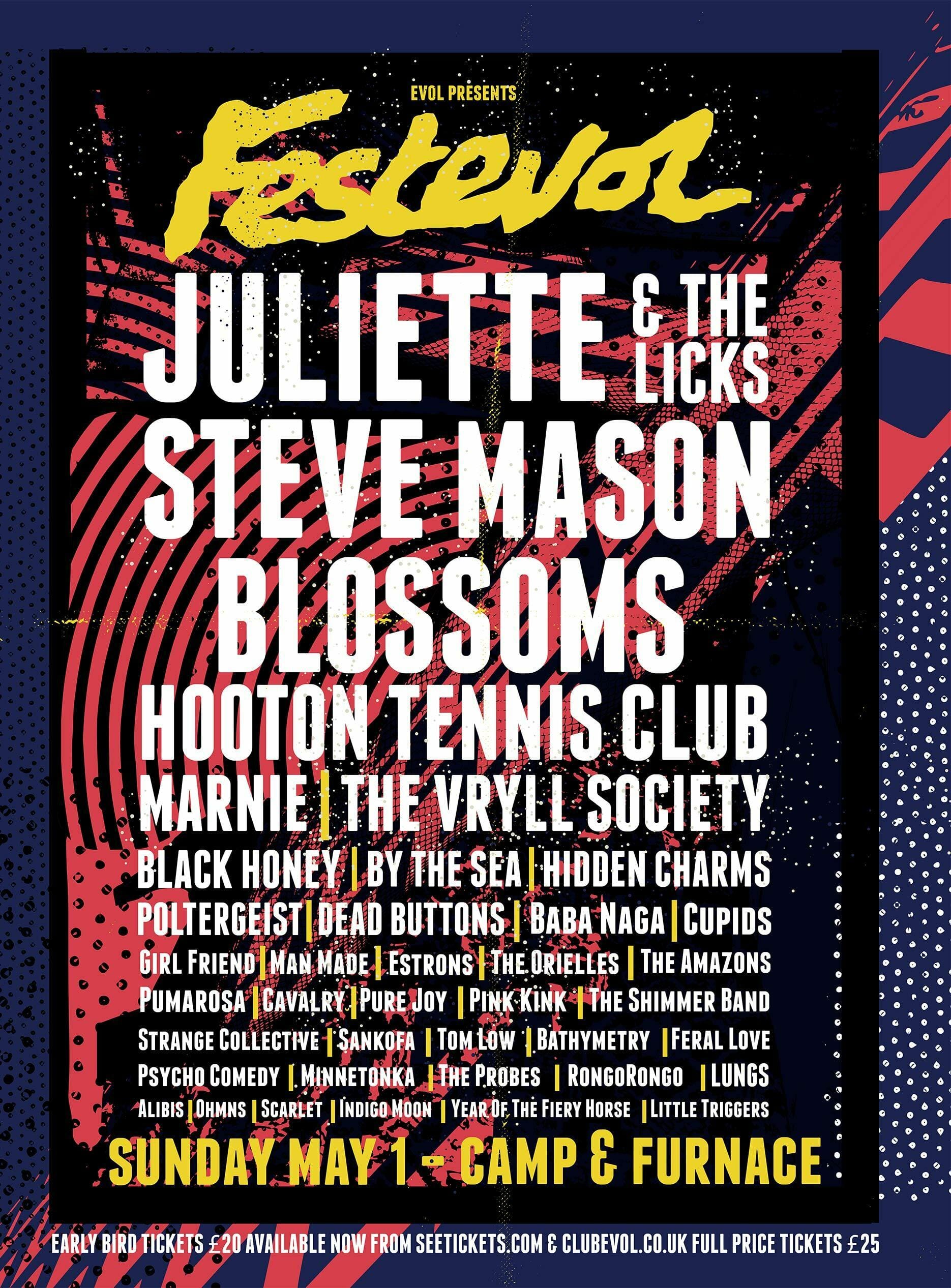 Incoming search terms: