With just days to go until the winner of Liverpool's GIT Award 2015 is announced at the city's Kazimier venue on Saturday 4 April, organisers can reveal the winner of the One to Watch prize is 23-year-old rock & roller Louis Berry.
Huyton-born Louis Berry wins this year's One To Watch Prize, which is awarded to one emerging artist and selected by the Merseyside  judging panel, having released just one track to date – yet was named Radio 1's 'hottest record in the world right now.'
Described by Getintothis' Peter Guy as 'channelling the energy of Jerry Lee Lewis through the story-telling of Dylan', Berry follows on from the inaugural One To Watch winner Låpsley who has gone on to sign a deal with XL Recordings and release her critically-acclaimed debut EP earlier this year.
Berry's debut offering .45 was tipped by national print press and radio and after playing just two gigs he signed a contract at each; a publishing deal following an explosive BBC Introducing set and recording terms after lighting up East Village Arts Club.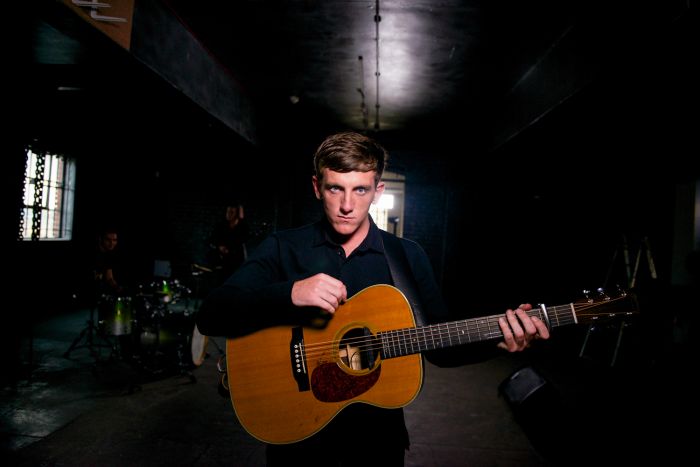 Louis has recently been in London recording more tracks ahead of a first full release. Berry will celebrate his One To Watch win with a live performance at the GIT Award 2015 ceremony on Saturday April 4.
The nominees for the main award are All We Are, Circa Waves, D R O H N E, Gulf, Hooton Tennis Club, Roxanne Jones, Låpsley, Esa Shields, Sundowners, Xam Volo, Jane Weaver and We Are Catchers.
Nine of these will feature in live performances plus specially created visuals at the Kazimier, transformed into an Aztec Jungle for one night only, alongside one-off performances and DJ sets.
The GIT Award this year will be hosted by Impropriety, Liverpool's premier improvisational comedy group.
Angie Waller, of Impropriety, said: "Impropriety are overjoyed to be hosting this year's GIT Award. In our true style expect irreverent introductions and heroic stupidity galore."
This year, the Kazimier will transform their unique venue into an exotic Aztec Jungle, with guests encouraged to embrace the theme and dress the part for this invite only event.
The evening will also include entertainment from the spectacular Batala drummers, Arkopsy's in-house jam band and the Krukthrust DJs.
GIT Award show producer, Joel Murray said: "The GIT Award represents a kaleidoscopic of music from the Liverpool scene – it has given much desired attention to so many emerging and experimental acts that otherwise maybe would not be given the recognition they deserve. It's a pleasure to be working with such talents."
Now in its fourth consecutive year, The GIT (Getintothis) Award, champions the best of Merseyside music providing a snapshot of the year in music, recognising significant artistic achievement across a range of musical styles.
This year's shortlist was selected by national industry figureheads consisting of Bella Union Records' Simon Raymonde, The Quietus editor John Doran, Heavenly Recordings' boss Jeff Barrett, UK Music's Dot Levine, author and journalist Simon Price, 4AD Records' Rich Walker, Clash Magazine editor Robin Murray, Jarri Van der Haegen, editor of Belgian buzz blog Disco Naivete, XFM deputy programme manager Mike Walsh and Amazing Radio's Shell Zenner.
The judging panel was completed by respected Merseyside music players including Liverpool Music Week director Mike Deane, Arts Club manager Victoria Smith, Sound City and Club EVOL promoter Steve Miller, Liverpool International Music Festival curator Yaw Owusu, Bido Lito! editor Christopher Torpey – and GIT Award founder and Liverpool Echo journalist, Peter Guy.
Also on the night, a special Inspiration Award, recognising services to Liverpool's music industry will also be presented. Previous recipients are Africa Oye (2014), Hillsborough Justice Collective (2013) and The Kazimier (2012).
All awards on the night plus unique commemorative mementoes for all 12 nominees will be created by Liverpool design agency ArchiPhonic while Liverpool Craft Beer will provide refreshments.
GIT Award founder Peter Guy added: "This year's GIT Award is the most exciting yet – not only have we ten first-time nominees but we've a show of great ambition and the Inspiration Award will resonate with not just Scousers but music-lovers around the country. Saturday's show at the Kazimier is going to be a night that lives long in the memory – the whole of Liverpool will be watching."
For all other details: www.getintothis.co.uk
THE GIT AWARD SHORTLISTED ARTISTS:
The GIT Award celebrates and promotes the best of Merseyside music. The GIT Award 2015 shortlist provides a snapshot of the year in music, recognising artistic achievement across a range of genresAll We Are
All We Are is Norwegian bassist Guro Gikling, Irish drummer Richard O'Flynn and Brazilian guitarist Luis Santos who formed in 2011 while studying in Liverpool at LIPA. The trio's rhythmic grooves and irresistible pop melodies earned them UK and international praise resulting in a record deal with Domino Records' imprint Double Six. Following festival slots, blanket radio and print press plus tours alongside Warpaint, Everything Everything and London Grammar they released their self-titled debut solo album in February 2015.
http://www.thisisallweare.co.uk/
Circa Waves
In a little over 12 months, Kieran Shudall, Sian Plummer, Sam Rourke and Joe Falconer, aka Circa Waves have become a UK music sensation. From the bedroom demos of singer/guitarist Shudall to being championed by Radio 1's Zane Lowe as the hottest band in the world, life's been a whirlwind for this Liverpool quartet. One online track secured a deal with Virgin EMI before European tour dates, national press and a prize slot on the NME Awards Tour supporting Interpol followed. 2014 saw support slots with The Libertines followed by a world tour with the 1975 in Australia and Japan swiftly followed by a nomination for Best New Band in the NME Awards. Their astonishing rise continues with the release of their debut album Young Chasers on 30 March 2015.
http://circawaves.com/
D R O H N E
Richard Craddock and Luke McCulloch are Merseyside electronic duo D R O H N E. Fusing textured electronic dissonance, warped vocals, treated guitar and subversive mystique, the duo supported DFA industrial dance all-stars Factory Floor for their debut gig. Quickly snapped up by Charlatans frontman Tim Burgess for his independent label O Genesis Recordings they released their 2014 Parasite EP to widespread acclaim. Adept at juggling live instrumentation or raising the roof with their club shows across the North West, the duo have made a name for themselves from Brighton to Birmingham and Sound City to Festival No. 6. They are currently working on their next EP.
https://www.facebook.com/drohne.musik
Gulf
Gulf's quintet of Mark Jones (vocals, synth, guitar), Jake Brown (bass), Joshua Gorman (drums), Thomas Murray (guitar) and Femi Fadero (guitar) specialise in light-as-a-feather cosmic pop that has marked them out in the music industry as one of the more enticing acts operating today. They burst out the blocks with debut track Emitter garnering blanket print and online press with NME and The Guardian selecting them as ones to watch. With just a handful of gigs under their belt, zero pictures of themselves available and harnessing a sound locked into that Liverpudlian tradition of melancholic dreaminess, Gulf have the UK record industry in the palm of their hands.
https://www.facebook.com/gulfmusicuk
Hooton Tennis Club
Dyed in the wool friendships that date back to primary school are as much a part of the fabric of Hooton Tennis Club as their hooky melodies and swaggering lo-fi warmth. Hailing from the Chester end of the Wirral train line, Ryan Murphy, James Madden, Callum McFadden and Harry Chalmers are mates first, a band second. First picked up by The Label Recordings, a project at Edge Hill University in Ormskirk, by former bassist of The Farm Carl Hunter, the quartet soon attracted the attention of Heavenly Recordings. National press, festival slots and a mini UK tour followed. Their double a-side single Jasper/Standing Knees, recorded at Parr Street Studios, will be their first release with Heavenly on February 23.
https://www.facebook.com/HootonTennisClub
Roxanne L Jones
Roxanne L Jones is a Liverpool singer/songwriter fusing vintage soul with contemporary sassy pop. Discovered in a talent competition, she quickly forged a deal with management agency rolA productions before securing a resident spot at Liverpool's Baltic Social as well as playing the O2 Academy. Having survived pleurisy, the family-driven, 22-year-old vocalist entered the studio to record her debut album In My Words. Overcoming her debilitating illness, she's toured the country and is ready to launch opening single I'm A Woman on March 16.
https://www.facebook.com/roxanneLJonesOfficial
Låpsley
The rise of 18-year-old Holly Låpsley Fletcher is little short of phenomenal. While studying for her A-levels, a collection of her online demos went global, garnering more than 200k plays. A sellout debut gig in Liverpool in February 2014 saw school friends mix with industry A&R. She soon signed to the team behind Adele, received national airplay, a PRS-endorsed Momentum Fund plus blanket national press. In April 2014 she received the inaugural GIT Award 2014 One To Watch prize before signing to XL Recordings in October. In November she headlined the GIT Award 2015 launch at 24 Kitchen Street. In January she released her debut EP, won the Blog Sound 2015, was named in the BBC Sound Poll and has already played festivals across Europe. She is currently studying at university in London.
https://www.facebook.com/LapsleyMusic
Esa Shields
Esa Shields is a pop polymath who has been part of Liverpool's murky, experimental underground for over a decade. Nurtured in the fertile Korova scene of the mid-noughties, Esa developed a penchant for the weirder ends of the music spectrum and obscure Polish film soundtracks. His 2014 album Ovum Caper took around seven years to piece together, and was noted by The Wire magazine for its uncanny ability to be both dark and pop. Recorded in a haunted Victorian townhouse and released on German label Gagarin Records, Ovum Caper has resulted in a renewed interest in Esa, who has always stayed busy with collaborative side projects: Legends Of Flight (an improvisational jazz outfit) and Songs About Death (cassette collages). Unique is an oft-used word in music, Esa Shields is that most rare a talent.
http://esashields.bandcamp.com/releases
The Sundowners
Wirral's summery revivalists The Sundowners have been steadily on the rise since they formed in 2010 as precocious youngsters. They've now crystallised their hip-shaking Scousedelic sound, which is led by the dual vocals of Niamh Rowe and Fiona Skelly. The five-piece is completed by Alfie Skelly (guitar), Tim Cunningham (bass) and Jim Sharrock (drums). Their debut, self-titled album was recorded at Parr Street Studios, and released in February 2015 by Skeleton Key Records – the label run by former Coral songwriter James Skelly. With slots at Glastonbury (BBC Introducing Stage) and This Feeling festivals behind them, March 2015 sees them supporting Paul Weller for a handful of dates around their own headline tour.
https://www.facebook.com/sundownersUK
Xam Volo
Sam Folorunsho, aka Xam Volo, is Liverpool's fastest rising soul star. The 21-year-old, originally from London, moved to the city to study but has been creating his own sonic cauldron of hip-hop, pop and neo-soul-jazz for the last 18 months in his musical hideaway. His self-produced Binary In Blue EP, dropped nine months ago online, caught the attention of industry heads with Liverpool International Music Festival selecting him for their development Academy. Features in the national press, a handful of intimate gigs, including the LIMF Sefton Palm House showcase, have set him up for his biggest year yet – Xam Volo is ready to step out of the shadows.
https://www.facebook.com/Xamvolo
Jane Weaver
Born in Liverpool but raised in Widnes, Jane Weaver has latterly been nurtured by the collective around the cult Finders Keepers label in Manchester. Having previously done Britpop (Kill Laura) and folktronica (Misty Dixon), Weaver went solo with the release of her first album in 2002. Her sixth album, 2014's The Silver Globe, saw her traversing celestial psych pop with a touch of krautrock, with the help of Twisted Nerve Records founder and husband Andy Votel on production. The record was named by Piccadilly Records as their album of the year for 2014. Weaver has been announced to play a string of festivals in 2015, including Liverpool Sound City, Green Man and End Of The Road.
http://www.janeweavermusic.com/
We Are Catchers
We Are Catchers is the project of Peter Jackson, a melancholic Scouse troubadour in the mould of Mick Head or Ian McCulloch. His piano ballads are steeped in longing and hope in the same majestic way that Brian Wilson and Art Garfunkel managed in their heyday. Jackson's efforts were captured by friend and producer Bill Ryder-Jones at Elevator Studios, and released by Domino Records as a self-titled LP in 2014. Favourable notices for the record came from Clash and NME, which were followed by a rare live outing at Green Man festival in 2014. Having made a rare live appearance at the Epstein Theatre in late 2014 We Are Catchers are now working on their second album.
http://www.dominorecordco.com/artists/we-are-catchers/
JUDGES' BIOGRAPHIES:
Jeff Barrett has been submerged in music all of his life. A radio / chart obsession as a kid set him off on the road to discovery via record shops and gigs in the mid-Seventies, to working in record shops in the early 80's. From there he promoted gigs and club nights in the West Country. After putting on shows by early Creation bands including Primal Scream and JAMC, his enthusiasm was spotted by Alan McGee who offered him a job which he took up in the summer of 1985. This led to a short but eventful life as a publicist, representing, amongst others Factory Records (Happy Mondays, New Order), the KLF, MBV, which in turn led to him starting his own label, Heavenly Recordings, in 1990. Heavenly will be celebrating its 25th birthday in 2015.
Mike Deane is founder and director of Liverpool Music Week – which has just celebrated its 10th Anniversary Edition in November. The city's annual festival attracts 30,000 every year, has played host to over 2,000 acts since 2003 from Kasabian to The Chemical Brothers. Mike is also a European Agent at talent agency Elastic Artists – his roster includes Liars, Evian Christ, Forest Swords, and The Haxan Cloak and is working with labels such as Warp, Mute, Ninja Tune and Hyperdub.
John Doran is the co-founder and editor of The Quietus website. He lives in Hackney, London, with his girlfriend and three year old son and has written for the BBC, The Guardian, the WIRE, Metal Hammer, The Stool Pigeon and VICE. He co-runs the Quietus Phonographic Corporation record label – which he helped set up to promote the music of East India Youth and Grumbling Fur – and the Quietus Lithographic Corporation publishing venture. His first book Jolly Lad is being published by Strange Attractor Press. He is working on a spoken word album with Manic Street Preachers, Factory Floor, GNOD, Heterotic, Gazelle Twin and more.
Peter Guy is a journalist and multi-media editor at the Liverpool Echo. For seven years Peter's blog, Getintothis, has charted the highs and lows of music on a national scale. In 2011 he founded the GIT Award which champions the finest new music from Merseyside. Peter has contributed to NME, MOJO and various music publications and is media partner with Liverpool Sound City, Liverpool Music Week and Liverpool International Music Festival.
Dot Levine is Head of Campaigns and Communications at UK Music. She has been with the company since 2010, where she started as Events and Website Manager. UK Music is the umbrella organisation which represents the collective interests of the UK's commercial music industry – from musicians, songwriters and composers, to record labels, managers, publishers, studio producers and licensing organisations. At UK Music Dorothy works on research and events, which promote and celebrate the UK music industry. In 2013 she was named in Music Week's '30 under 30' which listed the top young music executives working in the industry.
Steve Miller, better known as 'Revo', has booked Liverpool's EVOL club night for the last 12 years, which grew from humble beginnings at EBGBs, spent a year at the O2 Academy and later formed into the legendary Korova venue booking everyone from Arctic Monkeys to The xx. Since 2008 Revo has curated all 8 editions of Sound City festival booking hundreds of acts from Florence & The Machine to Jake Bugg. He has also contributed to the programming of Liverpool Music Week which saw Evol shows from Caribou, The Antlers and Wild Beasts.
Robin Murray joined Clash Magazine as an intern in 2007, helping on the launch of their web platform ClashMusic.com. Since then, he has risen to become Deputy Online Editor. Now reaching more than a half million readers per month, it's award winning style makes it the first destination for an intensely loyal reader base. Robin is a Mod/Northern Soul DJ, while also playing an active role in the grime scene.
Yaw Owusu is the Creative Director of youth culture organisation URBEATZ, Director at creative solutions company the playmaker group and Nothin But The Music and the Music Curator for Liverpool International Music Festival. Yaw has worked with a number of world leading brands, organisations and artists including MTV, Nike, AEG, Sony, Universal Records, Jockey Club Live, BBC Radio 1/1Xtra, BET, Damian Marley and Wiley.
Simon Price is an award-winning music journalist with three decades' experience, and also a DJ, club promoter and radio presenter. His CV includes nine years at Melody Maker, twelve as Rock & Pop Critic for the Independent On Sunday, and acclaimed rock biography 'Everything (A Book About Manic Street Preachers)'.
Simon Raymonde owns and runs the independent record label Bella Union. Prior to its creation in 1997, Simon was in a band called Cocteau Twins from 1983-97 signed to 4AD Records. He also contributed to the first two albums by This Mortal Coil. For Bella Union, Raymonde has signed artists including Flaming Lips, Fleet Foxes, The Walkmen, Explosions in the Sky, Midlake, John Grant, Dirty Three and Radiohead's Philip Selway. The label has won the coveted Independent Record Label of The Year here in UK in 2010, 2012 and 2014, as awarded by Music Week. His more recent output includes a new recording project called Snowbird.
Victoria Smith is manager of The Arts Club in Liverpool – one of the city's leading venues. She has 12 years experience in the industry, working in a wide scope of venues, including O2 Academy Oxford, Liverpool Empire, Edinburgh Playhouse and Newcastle Arena, as well as festivals including Download, V, Hard Rock Calling and Wireless. Victoria has overseen gigs including Paul Weller, Foals, Ozzy Osbourne and Morrissey while the Arts Club hosts Circus and Chibuku featuring the likes of Fat Boy Slim, Annie Mac and Disclosure.
Chris Torpey, a self-confessed magazine geek, is editor of pink music monthly Bido Lito!, having been part of the publication since June 2010. Christopher can often be skulking in the shadows of gigs across Liverpool, and occasionally doing a passable impersonation of Franz Beckenbauer on the football pitch. Chilean drones, Brazilian beats, Acid Arab compilations, and the back catalogue of Blur and Beach Skulls make up his record collection, but he's always got his ear to the ground for something new.
Jarri Van der Haugen runs Disco Naïveté, an eclectic so-called "buzz blog" which focuses on exciting new music set to win over many hearts worldwide. Plenty of A&R's keep a close eye on Disco Naïveté, as it's proven to be a first-on source for many of today's most exciting artists and bands such as Lana Del Rey, London Grammar and Haim. He also curates the POP-playlist on 22tracks Brussels and writes for The Wild Magazine.
Rich Walker hails from Chester, is an avid Toffee, and is General Manager of esteemed label 4AD, home to Ariel Pink, Bon Iver, Daughter, Grimes and The National, with the likes of Cocteau Twins, Pixies and Throwing Muses before them. Rich started his musical career while studying at Manchester University, working for label Twisted Nerve. In 2001, Rich found himself a dream job at the almost peerless Beggars Group, working his way up from a regional plugger to Head of Press before moving to work full time for one of the Group's figurehead companies, 4AD, a label that inspired him to want to work in music in the first place.
Mike Walsh Born and raised in Liverpool, Mike has over 20 years' experience in music and media. From college radio in both the UK and US to working promotions at the Parlophone label with the likes of Coldplay and Blur. Mike has also programmed various radio formats for Capital Radio Group, Chrysalis and now Global Radio where he has been part of the management of iconic radio brand Xfm for 9 years. Regular judge for the Sony Radio Awards, Music Week Awards and AIM Awards; devised and edited a best-selling Xfm book, and staged gigs with everyone from Noel Gallagher and Kings of Leon to Mumford & Sons and Kasabian. Mike lives in Cheshire with wife and baby daughter, and spends too much time on trains.
Shell Zenner is a vintage dress wearing, cupcake making, vinyl junkie and new music obsessive. Living and breathing Manchester, Salford and the North West, she gets her kicks from obscure instruments, flea markets, festivals, gigs and digging around the back of venues for embryonic new talent she can showcase on her Amazing Radio show. A deliciously chatty interviewer for touring bands, Shell treats her shows as a mutual appreciation society between musicians, labels and listeners. She also writes, blogs and social networks and was rewarded with the award of 'Festival Blogger of the year' from the Association of Independent Festivals.