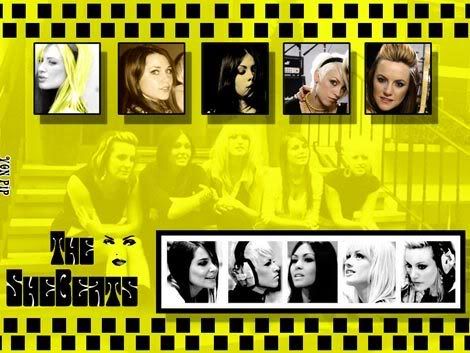 "Dirty Secret" By The Shebeats
Girls with attitude and guitars ? 60's influenced vibes ? On the VPME ? Surely not. There seems to be a bit of a theme here! Well the She-Beats seem to pass the VPME quality check :- attitude, talent and a helping of sixties tinged songs that recall the Bangles the Go-Gos  and The Kinks –  I mean whats not to like? Mix that with lead singer Holly's sassy Rock n Roll vocals and you have a sure fire recipe for success……heck I mean they've even lived on a barge and you cant get more beat movie than that, other than being a young Cliff Richard and showing the kids how to "darnce" whilst winning the heart of Una Stubbs ….After many missed phone calls, and lack of internet connection due to living on the said boat, Mr VP finally caught up with lead singer Holly Beat to ask her about music, boats, iconic dads and saucy messages and could he get a word in edge-ways?? ….. could he ??
VP: What's the story behind the formation of the band ?

Holly : Well we've all been buddies for years and we all gigged together in bands doing covers in Swindon, for pocket money. -We are all huge Beatle fans so Tiff, Alice and I started out with the intention of being an all girl Beatle cover band just for a bit of cash and a giggle.. but we never got round to learning a Beatle song! Tiffs dad, Pete, is in a Beatle tribute band so he had all the Beatley gear hanging around.. rickenbackers.. hofner bass and the ludwig kit etc. After searching high and low for a female drummer and guitarist we realised they were as rare as rocking horse poo and if we wanted something doing we might as well do it ourselves. So Tiff grabbed some sticks, I donned a guitar, whilst Alice went on bass and bob's your uncle.-(Funnily enough, bob is my uncle). I originally wanted to just sing, Tiff was going to play bass as thats her forte and Alice was going to hit the keys. We grabbed some of our male friends to play lead guitar and organ and we were away! (Must add at this point that the name The SheBeats had nothing to do with the Beatle idea.-I came up with it years ago whilst having a curry n lager with me pop.- Just stared into me korma and there it was. (Not quite as good as it soaring past on a flaming pie, but I don't eat a lot of pie)..We were going to call ourselves The Apple Scruffs but there is already a band by that name.. its guys, but Apple Scruffs was the name for the Beatle-mad women that hung out, outside the apple studios?) Soooo, we played musical chairs a bit when we got Polly in the band. The guy guitarist left, We switched our current keys player (Papa keys as he was known.. but he can play pretty much anything) to lead guitar.. and Polly began to hit those ivorys! Papa then moved over and Sophie Lynch came all the way back from Wales to play lead guitar for us. She was once a Swindon lass but moved to greener pastures.. and only the power of the beat-lets brought her back.
And –deep breath– that is how The SheBeats came to be!
VP: There's definitely a 60's influence to your sound with a modern twist who are your influences
Holly :Between all our influences we cover ACDC to Abba. Tiff is a general retro nut!-She's mad on the 60's and has a soft spot for indie. Alice loves Bowie, TRex and quirky pop. Soph adores The Libertines and a lot of obscure modern indie and rock.
Polly can't get enough of Queen.. she loves the musicals and has done a Jazz degree so she's very good at scatting! And I love quirk pop like Ben Folds Five and Barenaked Ladies.. The band don't really aim to sound like anyone as such.. we all love The Beach boys for their harmonies, The Beatles for their songs and The Bangles for their balls.. metaphorically speaking, with a bit of Fratelli dirt power and Hoosier nonsense thrown in for good measure.
VP: You've been recording at Abbey Road Is this for an album? When will it be out? Are you enjoying the process?
Holly :We've had a fab time recording bits and bobs for an endorsement with Apple.. but We haven't been recording the album as such.. or at least we started, but we changed our minds about some stuff. That's girls for ya though! We all figured we were gona have to be in LANDAN TAWN for a while to record and play.. and couldn't raise the cash to get a decent pad, so in Rosie and Jim fashion, we formulated an evil plan. Not so much evil -as wet. Polly, Tiff and I boarded Tiffinys fathers boat and sailed in down the Thames to London and lived together for a couple of months under Kingston bridge on the river. -We had to take it back as the locks shut in the winter, and we all needed a jolly good shower.
VP: The current music scene? What's your opinion? Any bands /performers take your fancy?
Holly :Again, with all us 5 girls being into very different music, I'm sure you wouldnt get the same answer twice. In fact, that's an impossible question to answer on behalf of everyone. I think we're all agreed that the Enemy/Fratellis crew are all doing a grand job at knocking out some dirty indie pop..(what a lazy answer, teehee).
The current music scene? Hmm it seems to be saturated with indie bands and emo/metal bands at the moment but at least we've moved away from the S Club era. There is more value to bands that can deliver the goods at a live show now and I think that's how it should stay. – oh dear we better practise what we preach
VP: Have you received any bizarre requests or messages from fans yet?
Holly : Yes, but Myspace is quite an odd place isn't it though? We've met a lovely chap who'd like to paint us, a french gentlemen who pins pictures of us to things for luck, a guy who wrote us a very touching poem about the colour yellow (I will find it and send it to you). -Everyone we've encountered has seemed genuine and well-meaning. -Although we do get a lot of emails from men who don't give a hoot what we're singing about etc. If you have breasts it is very difficult to get noticed for your music first, so we get a lot of 'sexy' messages shall we say. tut tut.
VP: What have been the highlights of your time together?
Holly :Definately the boat times. (I can't say that without it sounding like I am quoting The Mighty Boosh) – one of my personal highlights in fact..was seeing Noel Fielding in London after a SheBeats meeting.. I wanted to say hi and kiss his feet but PollyBeat (the organised one) wouldn't let us stop. Probably a good thing, I would've stroked his face or tied myself to him or something. It's hard to say what the highlights have been as we've all known eachother so long. As a band, the best day so far would have to be Abbey Road, studio 2. Lots of severe pant wetting went on that day. -But we always have a giggle.. no matter where we are or what we're doing. We've spent a lot of time in Tiffs caravan recording on Reel to reel and that was good fun too.
VP: Your dad's a bit of a cult figure within the music world (XTC legend Andy Partridge) has he been a big influence, does he offer advice or does he leave you to your own devices?
Holly :He's awesome when it comes to all the legal stuff. He's had trouble in the past with what he's signed so he is always very interested in the contracts etc. He's also supportive like any other parent would be but he doesn't get too involved. I do call him for advice and it's great to have someone you can trust, at hand, who's been through it all before. There were some rumours going around that he wrote for The SheBeats which is nonsense, but it is a bit of a compliment to me if our stuff sounds like he had a hand in it as I do look up to him as a writer.
VP: What's your opinion of the rise of social networking (i.e. Myspace /Face book) is it a good thing?
Holly :I think the music/comedy myspaces are a fab idea.. It's like a virtual non-stop gig on your screen. Music is so accessible now and it's easier to give yourself a broad musical education as you come accross music you might not have heard otherwise, and it makes it easier to promote shows etc. The personal Myspace pages allow you to be inoffensively arrogant in your own little reserved space online. -It's like a safe little sanctuary where vanity prevails and it's a break from reality. -Vanity and arrogance in good measure can be healthy. don't really know what I think about it at all yet, as long as we don't all turn into W.O.W users too.. we'll be ok right?
Facebook? – what is all this 'poke me' wubbish? – Encouraging kids to write on walls.. never a good thing.
VP : What was the first single you ever bought?
Polly -Always, Bonjovi
Holly – Charmless Man, Blur
Tiffiny – Zombie, The Cranberries
Sophie – Something by Erasure?
Alice – Not sure?
VP: Sum up The SheBeats in 5 words
Holly :Goofs, mystery, milkmaid, bambi and tinkerboy
Do you know who's who?……But seriously, 5 words would be.. – shamelessly danceable dirty guitar pop
Links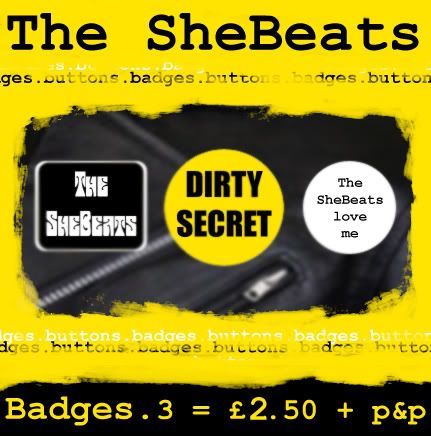 Video
"Detective X" by The She Beats
Wallpaper

Podcast: Play in new window | Download