It's a fact that UK music fans have always enjoyed a "special relationship" with the work of Tanya Donelly. Pretty much from the get-go, they've been staunch supporters, from her teenage years as a founding member of Throwing Muses with her stepsister Kristin Hersh, to forming The Breeders with Pixies Kim Deal right through to her solo work. And of course, there's her wonderful output with Belly, when Tanya stepped out of the sidings to stand front and centre producing two magnificent albums in the shape of 'Star' and 'King.' Bafflingly 'King' didn't sell as well as it's predecessor and Donelly set Belly adrift to sail gently off into the sunset.  There was no drama, no histrionics, no mutineers. Donelly was certainly no Captain Bligh, in fact, she was something of a reluctant leader, preferring cooperation and collaboration to tyranny. 
However, for fans, the sadness that Belly was no more was compounded by a sense that it very much felt like unfinished business, that Belly still had so much more to offer. Similarly, Belly's reunion seemed to come about in the same sort of understated, pragmatic fashion with Tanya reasoning it was a case it's "now or never."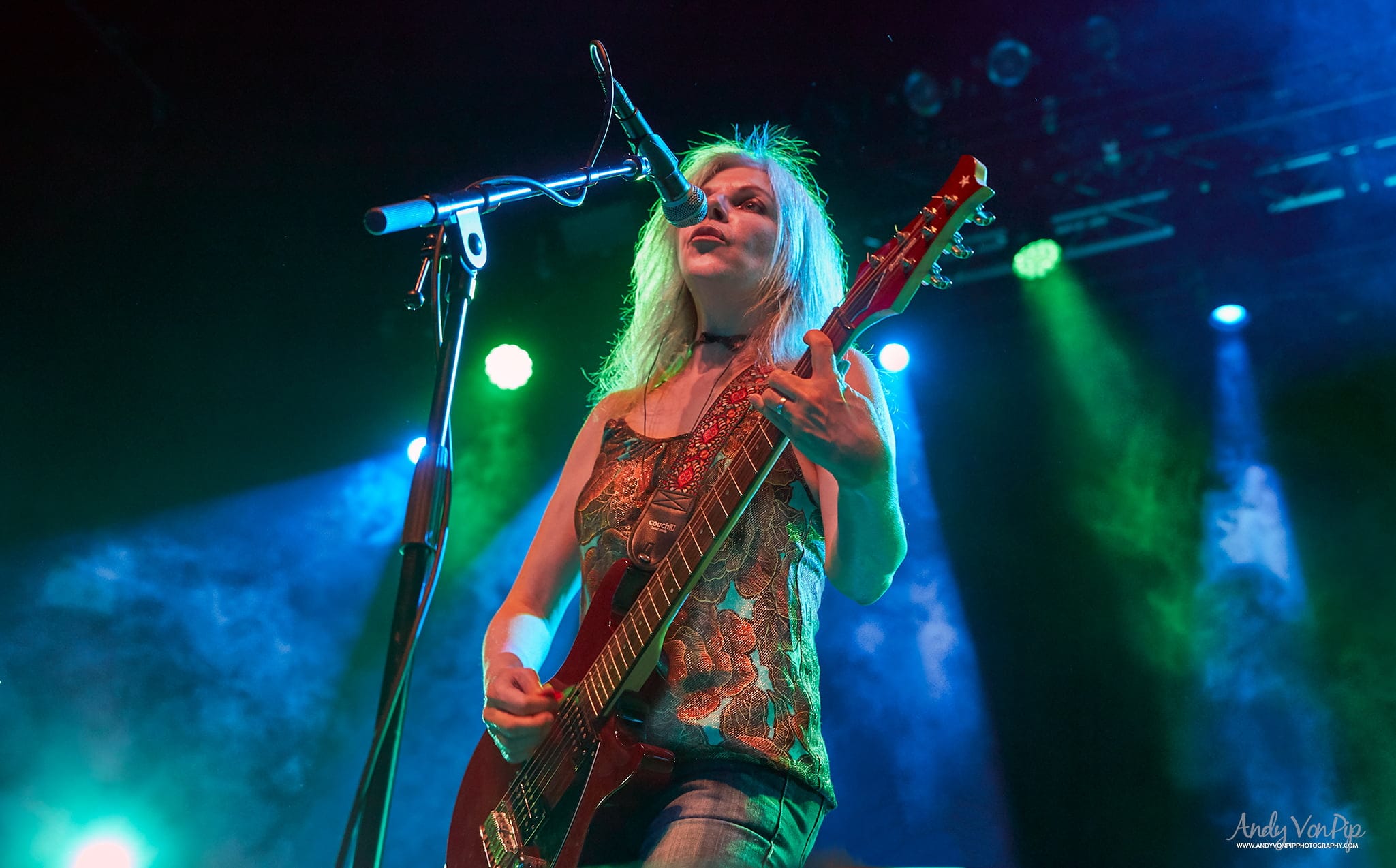 In 2016 Tanya, alongside brothers in musical arms Chris (drums) and Tom Gorman (guitar) and bass powerhouse Gail Greenwood reunited and were delighted to find that their fan base was still very much there for them. And  2018 has seen them, after taking the Pledge route, release their first new music in 23 years in the shape of 'Dove.' It's an incredibly accomplished album which encapsulates all that was wonderful about Belly first time round whilst demonstrating the development, obvious maturity and musical sophistication that the intervening years have nurtured. It's also an album Donelly has described as the most 'collaborative Belly album to date."
Their recent Manchester gig in the faded grandeur of the Ritz ballroom as part of their current UK tour proved that Belly are still more than capable of conjuring magic from the ether. Their set comprised of a seamlessly blended patchwork of old and new material and it all worked quite beautifully. Revered classics such as 'Geppetto," Super Connected' 'Dusted' and 'Slow Dog' simply haven't aged in the slightest indeed they seemed to have grown into something bigger, sounding even more majestic and powerful than ever whilst sitting perfectly alongside the bands beautifully emotive, sweeping new material. And Belly are clearly having a ball on this tour. The gig initially lasted all of 15 seconds as Tanya arrived on the stage reached for the mic to say the briefest of hellos before gasping "OHH SHIT!" and running off the stage to laughter and bemusement. Thankfully it transpired that this actually wasn't a terrible case of stage fright but she'd simply forgotten her in-ear monitors!… During Donelly's brief absence bassist, Gail Greenwood set the tone for a fun evening and joked "Hi Manchester, we're just so professional!  So whilst Tanya sorts things out, I guess I could do my stand up routine ?" (I'd buy tickets!)
The whole evening had a genuine sense of occasion, a celebratory coming together, not a night to simply wallow in nostalgia but rather to rejoice in the fact that Belly are back with, let's face it, a f**king magnificent new album. Nobody embodied this spirit of celebration more than Gail Greenwood. She was essentially an unstoppable force of nature, her joie de vivre was nothing short of inspirational. Given her recent health problems, one can only speculate on what she thinks of Trump's administration, although in a moving blog post from 2017 she did say  "I can literally say that Obamacare has saved my life twice (so far….)!" And it's a beautiful thing to have seen her back up onstage, exuding more energy, vitality and vigour than musicians half her age as she gave an astonishing mesmeric performance of agility power and pure rock n' roll swagger.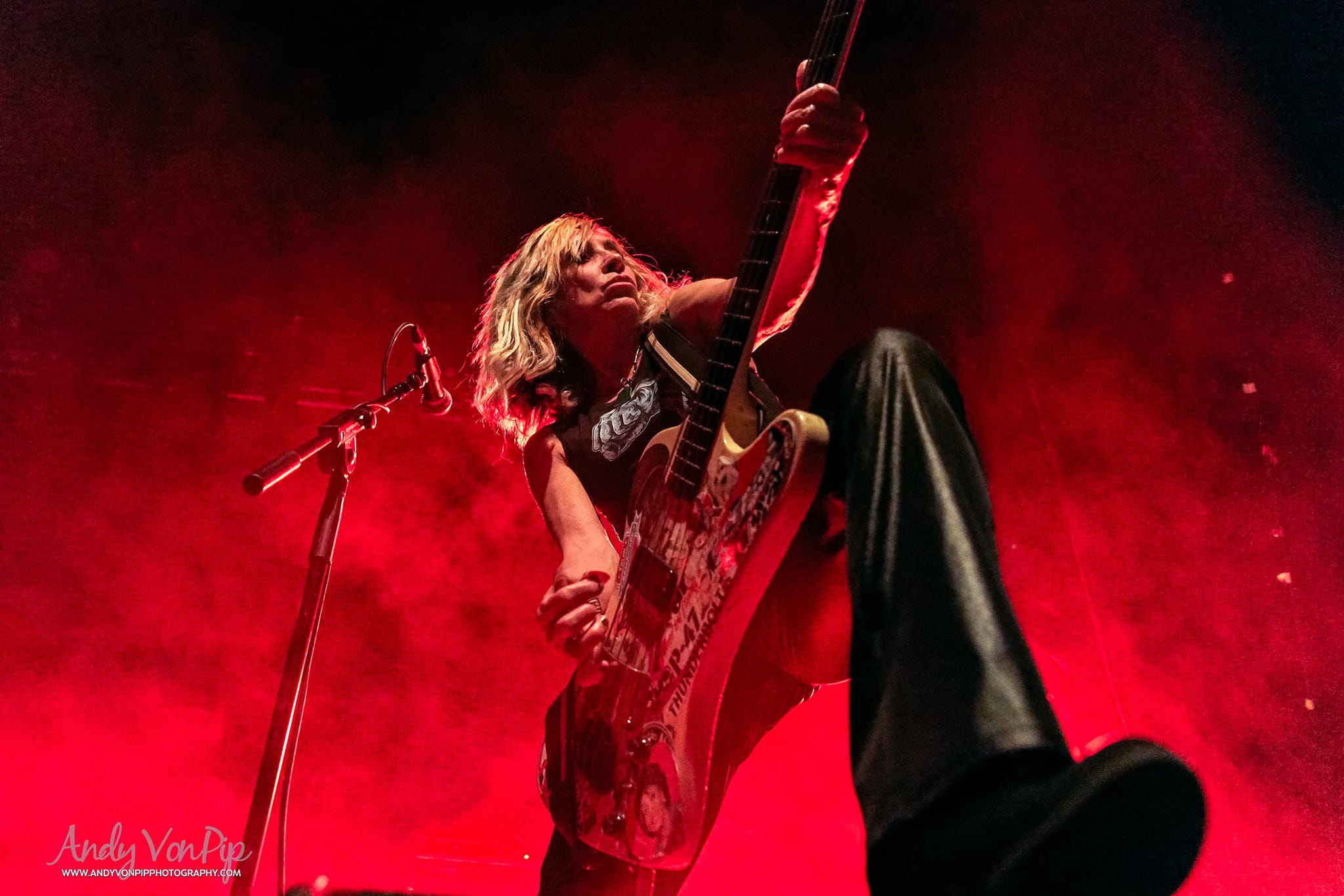 The set was split into two hourly segments with an 'intermission' in between as Gail explained at the end of set one "We're going to attend to our needs whilst you attend to yours – so why not get yourself along to the Ritz's fine bar because the drunker you get … the better we sound." At the start of the second half of the set one rather over-excitable gig goer appeared to have taken Gail at her word during the break. His incomprehensible shouting provoked a baffled response from Gail "Dude you're really gonna have to learn American as I can't understand one word you're saying" whilst Tanya quipped "You need a loudhailer and I need a translator. " To be quite honest even Alan Turing and an infinite army of enigma code breakers would have had trouble deciphering such a tangled aural word fountain, which sounded like a heady mix of Edward Lear meets Oliver Reed. I guess if you really must bellow song requests out during a gig it's probably apposite not to demand one that's already been played earlier! Or maybe just leave it to the band to determine the set list?    (Click here for some sage words about "Man at front of gig screaming for a song that band are definitely going to play anyway" )
The set continued apace mixing old favourites with plenty of new material, and Tanya's vocals sounded as good, if not better than ever.  And it's the new material that really gives context demonstrating both how well it 'Dove' -tails with Belly's formidable back catalogue whilst showcasing just how timeless that back catalogue actually is. Despite Gail introducing the iconic 'Feed The Tree' with "Who's ready to party like it's 1993 ?" this was no backwards-looking nostalgia fest and their new material such as 'Shiny One' 'Mine' and 'Stars Align' was greeted with as much enthusiasm as Belly's canonised classics!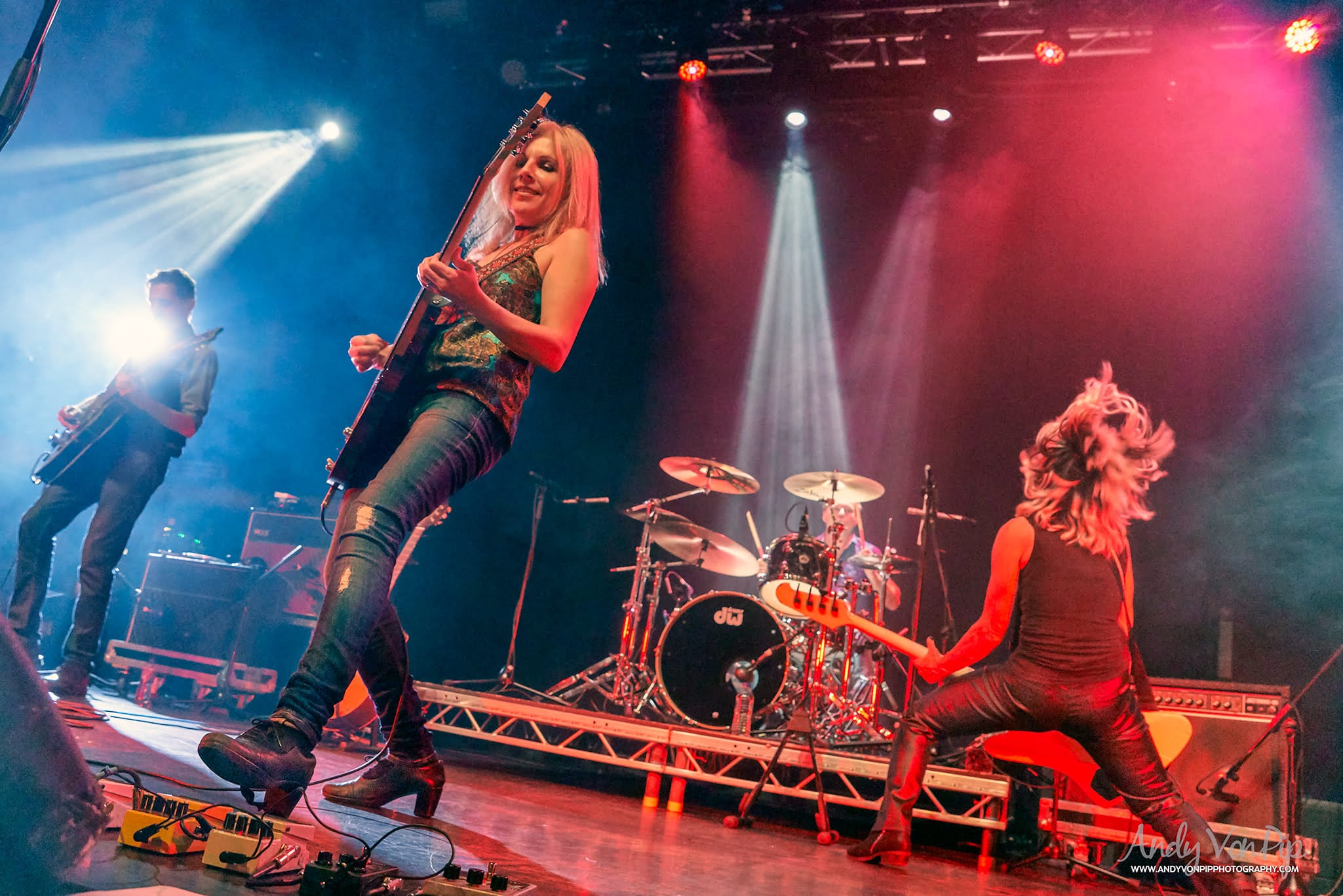 'Dove' more than stands up to their previous work, indeed it's very much of the here and now and is certainly one of the finest albums of 2018 to date. Seeing them perform the album live and witnessing the joy, affection and huge regard that the band are still held in was a moving and uplifting experience. Hopefully, nights like these will inspire Belly to keep creating beautiful music together and thus ensure we won't have to wait another 23 years for new tunes, because, the fact is the clocks ticking for us all! This was a special night from a special band who still have much, much more to give and who still have that wonderful ability to make a 'superconnection' with their audience. And I love them. Amen.
Scroll down page for more photos!
Listen and stream Belly's music HERE,
And there's still time to catch Belly in the UK at the following dates
6/16: Glasgow, UK – O2ABC

6/17: Sheffield, UK – Leadmill

6/18: Nottingham, UK – Rescue Rooms

6/19: Brighton, UK – Concorde 2

6/20: London, UK – Shepherd's Bush Empire